Web Design
Establishing an effective online presence can be a challenge. Not only is there a whole world of technology involved, there's also the overwhelming task of compiling content and deciding how best to present it online. Carole's complete approach to web design is an easy to follow process that guides the client through each of six steps: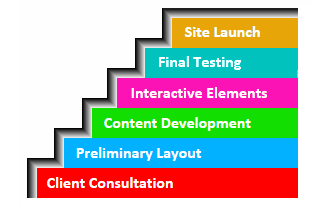 Step 1: Consultations with the client to learn about the company, organization, products and/or services that will be featured. The expectations for the website as well as the relevant competitive environment will be thoroughly explored.
Step 2: Creation of an eye-pleasing, technically sound layout that will provide optimal viewing and functionality on all devices (learn more about responsive design). This will include intuitive navigation which will allow visitors to easily find what they want while showcasing the full scope of information available.
Step 3: Traditional marketing techniques and custom marketing strategies are applied to text and images provided. Additional content can be created as needed to ensure that the client's message is delivered with maximum impact.
Step 4: Any and all sections can include dynamic features which allow visitors to easily interact with the site. This can include communicating directly with staff, requesting information or even placing orders at their convenience.
Step 5: Once the completed site has been approved by the client, thorough testing is done to verify that all technical aspects are functional and all content is properly placed.
Step 6: The complete site is uploaded to the server and ready for visitors.
Throughout each stage, Carole's expert advice and top-notch skills make establishing an online presence a positive experience instead of a difficult and confusing chore.
Web Design Services are available to clients interested in a new site design or those wishing to update/enhance an existing site. Get more information now.