About Carole
Carole Lipari is a talented and creative marketer with over 30 years of experience in the field.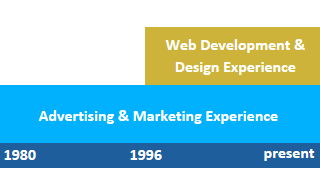 She was a member of the Account Management Department at a Top 10 Manhattan-based Advertising Agency and held a management position at an Independent Marketing Firm for 12 years before starting out on her own in 1992.
By adding web design and development to her service offering in 1996, Carole combined traditional advertising and marketing techniques with technical expertise. This complete approach allows her to deliver each client's message to a broad audience and to deliver that message effectively.
Carole believes strongly in personally serving her clients' online marketing needs. Applying her experience and creativity to each project, she gauges her own success by that of her clients' products and services.
Keeping in touch with not only the industries she serves but also her own, she is constantly developing new marketing strategies that utilize the latest technologies to help her clients succeed.
Business Hours
In order to fully serve clients' needs, Carole is available between the hours of 10:00am and 10:00pm, 7 days a week. This extended availability ensures that content additions and changes will be on-site almost instantly and that expert advice is only a phone call or e-mail away.
It also allows clients to spend traditional office hours running their business with the option of dealing with their site at a more convenient time for them.
Carole takes pride in giving her clients individual attention and will spend as much time as necessary discussing their site needs and goals at no charge. Fees are only incurred for actual development work; not the time it takes to formulate an effective online strategy.